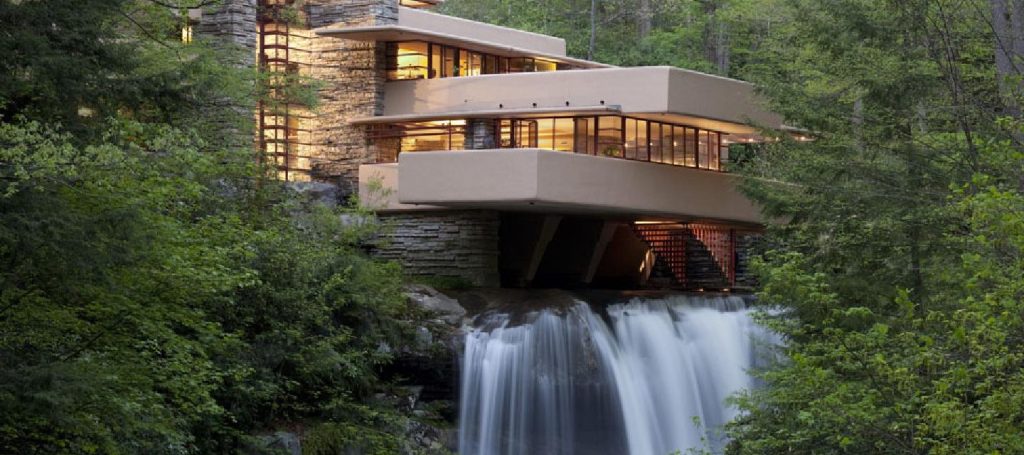 Fallingwater is Wright's crowning achievement in organic architecture and the American Institute of Architects' "best all-time work of American architecture." Its owners, Edgar and Liliane Kaufmann, were a prominent Pittsburgh couple, reputed for their distinctive sense of style and taste.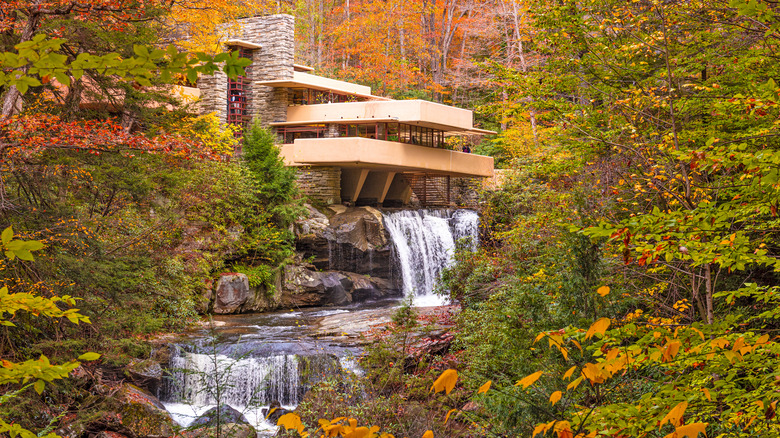 They met Wright in 1934, when their son, Edgar Jr. spent six months in the Taliesin Fellowship. Knowing that Wright shared their love of nature, they commissioned him to build a summer home for the family's weekend retreat in Bear Run, PA. Wright recognized that his clients wanted something that would celebrate the landscape of their favorite country hideaway in an innovative way. Determined to build over the stream that punctuated the property, Wright remarked that rather than simply look out at it, he wanted the Kaufmanns "to live with the waterfall…as an integral part of their lives."
In Fallingwater, Wright anchored a series of reinforced concrete "trays" to the natural rock. Cantilevered terraces of local sandstone blend harmoniously with the rock formations, appearing to float above the stream below. The first-floor entry, living room, and dining room merge to create one continuous space, while a hatch door in the living room opens to a suspended stairway that descends to the stream below. Glass walls further open the rooms to the surrounding landscape. In 1938, Wright designed additional guest quarters set into the hillside directly above the main house and linked by a covered walkway.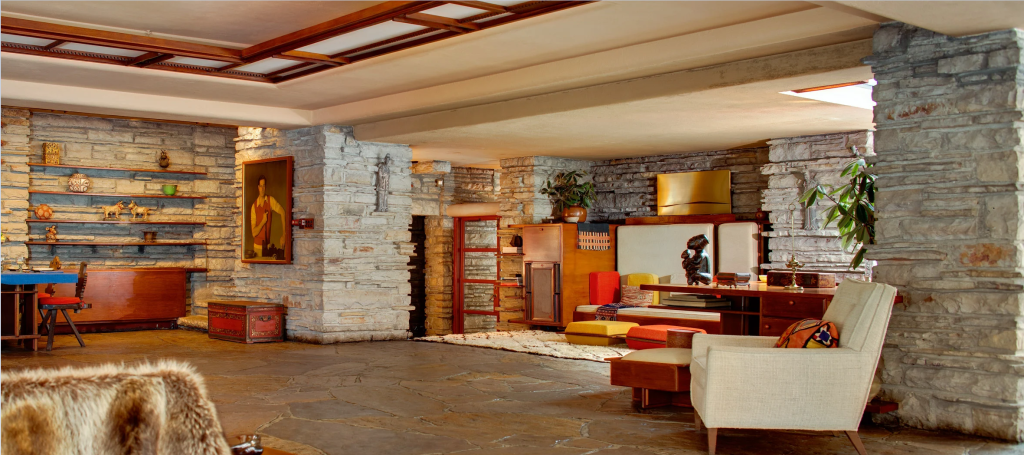 And this is the floor plan of Fallingwater
Fallingwater remained the family's beloved weekend home for 26 years. In 1963 the Kaufmanns donated the property to the Western Pennsylvania Conservancy, together with 1,543 acres of surrounding land. It opened its door as a museum in 1964 and has since hosted more than five million visitors.
"Great architecture, like any great art, ultimately takes you somewhere that words cannot take you at all. Fallingwater does that the way Chartres Cathedral does that. There's some experience that gets you in your gut and you just feel it, and you can't quite even say it. My whole life is dealing with architecture and words, and at the end of the day, there is something that I can't entirely say when it comes to what Fallingwater feels like." — Paul Goldberger, Pulitzer Prize-winning architectural critic