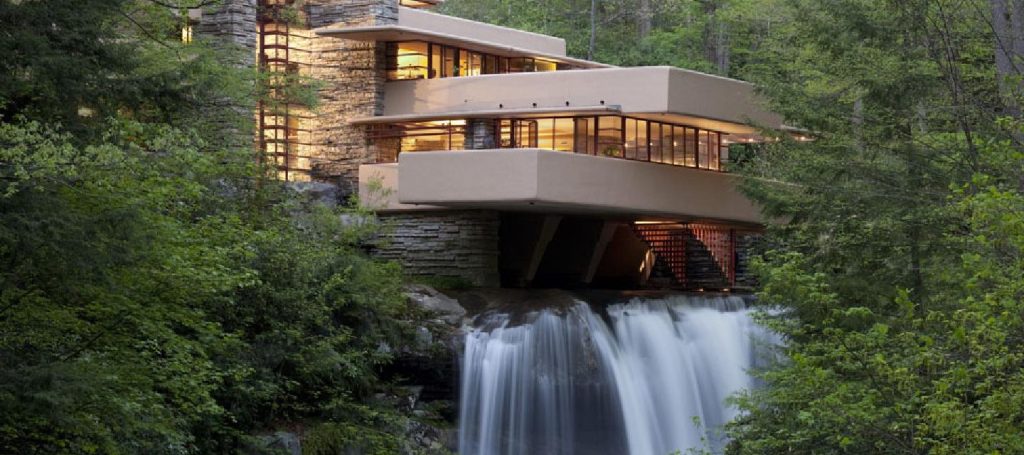 Without any doubt, Fallingwater is Wright's most famous work in his long career.
The owners of it are the couple Edgar and Liliane Kaufmann, mostly known for their unique sense of style.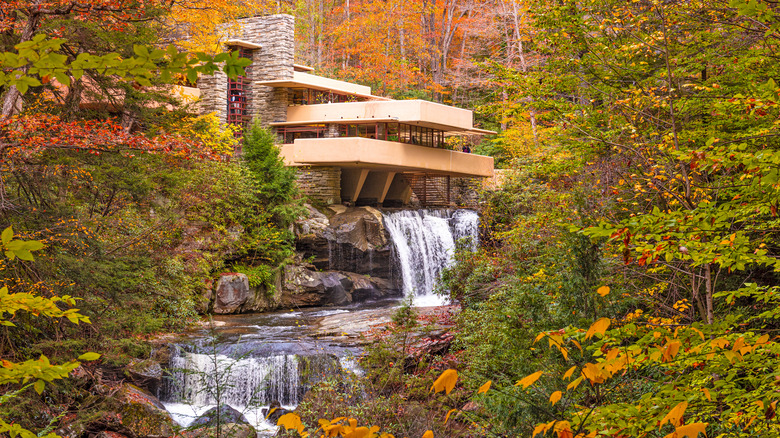 The couple met Wright in 1934. Knowing that Wright shared their love of nature, he knew that the couple loves and admires nature a lot, so they trusted him to build a summer home for them and their family.
Using reinforced concrete, Wright created a series of trays that were hooked to the rock face. The terraces of locally sourced sandstone combine in a pleasing way with the geological formations, giving the illusion of being suspended above the stream beneath. On the ground floor, there is a connected space that includes an entrance hall, a living room, and a dining room, with a trapdoor in the living room which leads to a stairway that goes down to the stream. The use of large windows helps to incorporate scenic views into the interior. In 1938, he added an extra guest room which was tucked into the hillside directly above the main house as well as a hidden walkway connecting it to the main house.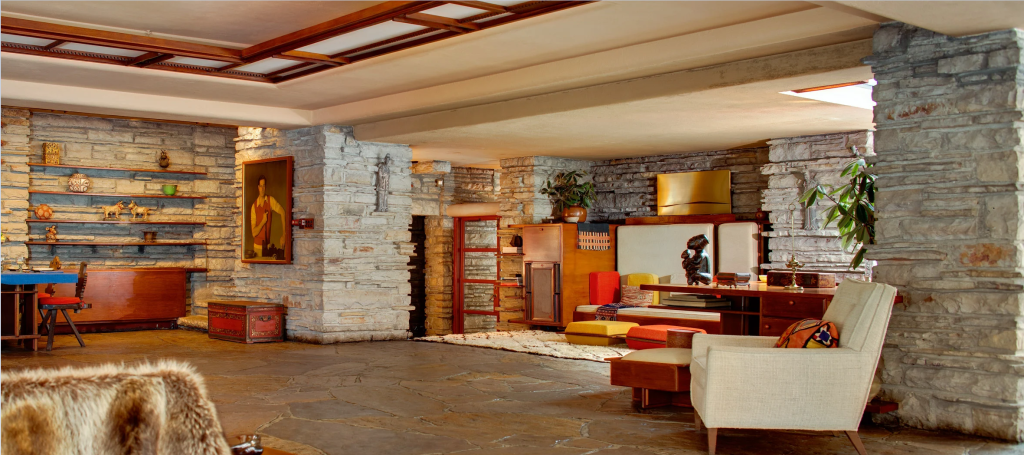 And this is the floor plan of Fallingwater
The Kaufmanns' beloved weekend getaway for 26 years was Fallingwater. They presented the structure and the surrounding 1,543 acres to the Western Pennsylvania Conservancy in 1963. More than five million people have visited it since it first opened its doors to the public in 1964 as a museum.
Quote :
"Great architecture, like any great art, ultimately takes you somewhere that words cannot take you at all. Fallingwater does that the way Chartres Cathedral does that. There's some experience that gets you in your gut and you just feel it, and you can't quite even say it. My whole life is dealing with architecture and words, and at the end of the day, there is something that I can't entirely say when it comes to what Fallingwater feels like." — Paul Goldberger, Pulitzer Prize-winning architectural critic